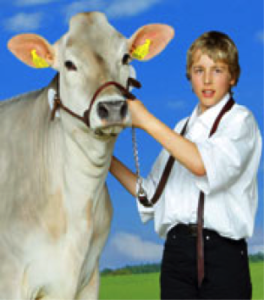 Josef Berchtold and his family run a small dairy farm, known as Wieserehof, in the south part of Germany, close to Munich.
They work with a small but quality herd of Brown Swiss Cattle. At the European Brown Swiss show in April 2008 they won the Intermediate class with JB Ace Baerchen 72. Her daughter, JB Denver Brownrose 72 (pictured above with Johannes Berchtold) won in June 2008 at the German Open Dairy Show under judge Hank Van Exel, California. Judge Van Exel called her, "The most balanced heifer at this show."
Josef calls on Weeks® Approved Analyzer Christoph Loser to analyze his small herd of elite Brown Swiss. Josef commented that the Ace daughter was analyzed 513 by Weeks® Approved Analzyer Guido Simon and Denver has aAa numbers of 135. He states, "Without aAa®, he probably wouldn't have used Denver on this cow." He also believes that one of the most difficult parts of breeding cattle is to get really good offspring from a really good cow. "And that is one of the reasons why I like to work with the aAa® numbers," adds Josef.
Josef is also a journalist for the "Brown Swiss" publication in Germany. This publication often features articles on aAa® about analyzing cows.