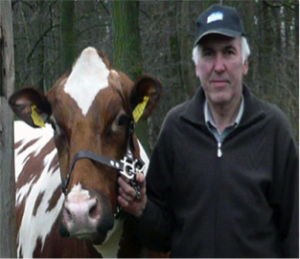 To breed more balanced cows and to eliminate bad mating results, I decided to start analyzing my cows and heifers in 1997. In the beginning, Weeks® Approved Analyzer Maurice Kaul analyzed my animals and then when Guido Simon became Weeks® Approved he analyzed the herd. From that time my herd really started to become more uniform and we came to realize that we have less and less bad offspring. The average Lifetime production of the cows that left my herd for slaughter the last 2 years was 91,300 kg milk and today I work with the absolute top cows in my herd. Of course I spend a lot of time to find the best bulls for my cows. This is extremely important because even bad bulls have aAa® and Weeks® Numbers.
After the first visit by Maurice we decided to breed our Blackstar Benefit *RC daughter, Meggi (VG-88), with Comestar Lee because her aAa® Analysis matched well. The result was a heifer calf, RH Meggilee (EX-91); Grand Champion RUW-Schau, 1st best udder DHV-Schau, 81,000 kg milk lifetime production and international bull mother for several A.I. studs.
Two of her 50 progeny are here; one daughter is RH Talent Maxima-Red (VG-88) and her half-sister RH September Maryrose-Red (Ex-90). Maxima-Red classified after her first calving with maximum score of VG-88, was 2-time All-German cow, has won several other championships. In addition to being reserve champion at the DHV-Schau, Maxima-Red is an international bull mother. Maryrose-Red was classified after her second calving at EX-90, was reserve champion at RUW-Schau and international bull mother for several A.I. studs as well.
Besides these tremendous animals, Meggilee has 5 Stouder Morty daughters, who all classified VG after first calving. Now the young heifers by Stormin Norman and Ladino Park Talent *RC (Full-sister from All-German Maxima-Red) are really looking great.
Since I use aAa® in our breeding program all heifers that I sold on auctions have brought above average prices, and some I sold for really good money in our country and other countries as well. These results confirm that I will to continue using aAa® in my herd.
Antonius Richter
Richter Holsteins
Maintinghausen, Germany